Everything you Need to Know About Biomat vs Imitations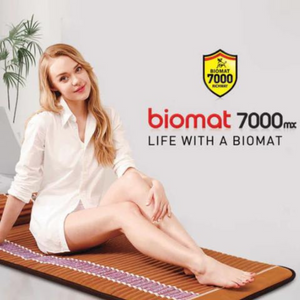 If you're on the lookout for the best Far Infrared mat in the market for relieving pain at home you're in the right place. At Biomat Direct we're on a mission to help you achieve wellness and pain relief from the comfort of your home.
However, if you're doing your research and want a thorough comparison between Biomat and imitation heating pads, may this post enlighten you to rest assured that there is no better option other than Biomat. 
Biomat vs imitations comparison 
Comparing Biomat vs healthyline and other imitations is natural, after all investing in a professional product requires some thinking. So we're going to talk about the main feature comparisons you should consider before making a purchase which are the following: 
1- Healing benefits
Biomat healing benefits
Biomat healing is just the tip of the iceberg of the many ways you can relieve chronic pain at home. The most common uses of Biomat are:
For relieving back pain
Relieving cramps
Relieving neck pain
Relieving pain in sore muscles
Improving blood circulation
Reducing inflammation
Relaxing your mind and body
You can also check out this pain reduction case study to see how Biomat therapy helps you heal from the inside out.
Imitations
When you compare Biomat vs Healthyline or other similar Far Infrared mats it's easy to be confused with the information each brand claims on their website. That's why we have a large knowledge base of FAQ on our website for all the healing benefits that Biomat has to offer. You can start by understanding what exactly is a Biomat and its most common uses.
2- Technology
Biomat has a 3 system technology and over 20 years of research, feedback and development 
All of this is possible thanks to the combination of our Far Infrared Technology which works as a thermotherapy treatment that improves your blood circulation, the Negative Ion Technology that helps you release negative energy from your body and its powerful Amethyst healing benefits. 
Each Biomat comes with 17 layers of technology carefully designed to help you achieve the top level of pain relief and relaxation at home and to the date, the technology keeps evolving every year. 
The Biomat comes with a sleek and modern controller. It is simple and easy to understand. Temperatures are shown in Fahrenheit and Celsius. The controller features an auto step down timer for safety and a shutdown timer for convenience.
Imitation Far Infrared mats technology
When comparing Biomat vs healthyline or other similar Far Infrared mats on the market, you will see that others claim to have similar technology and benefits, but nothing like the Biomat for sure! 
With any Biomat product you can rest assured that it is an FDA approved and registered product used by thousands of health and wellness professionals in different therapeutic practices.
3- Price
Biomat pricing explained
Biomat products come in different presentations and sizes, however the standard top selling product is the Richway Biomat Professional 7000 and it is priced at $1,850 USD. It can feel like an expensive investment but in the end, it's an investment in your health. Plus we offer payment plans and financing and you can also file insurance claims to help cover the cost.
You can explore the pricing of other Biomat products here.
Biomat imitation pricing
Biomat imitations may not offer the same flexibilities or partner with insurance companies which can also make you question if other Far Infrared mats are legit or of the highest quality like Biomat.
4- Materials  
What are Biomats made of?
Since contact with skin is inevitable, the Biomat's top layer is constructed using thick natural cotton fibers and high-quality polyurethane. The outer surface is durable and can withstand wear and tear. No glues are used on our amethyst. The breathable fibers allow infrared heat to easily penetrate the body.
Biomats also come with a waterproof cover made of 100% polyurethane with proprietary coating to repel liquids while allowing Far Infrared and Negative Ions to pass through and reach the user. Its composition is hygienic and can be disinfected.
Imitation mats do not have the same quality as the Biomat
Imitation pads are made using various materials. Many tops contain synthetic fabrics, some wrinkle because of its low tolerance to heat. Others contain mesh, which can snag and rip overtime. Another style of pad uses stone discs glued onto the surface. Users have told us the discs can fall off since the glue is affected by heat and leach fumes.
Is Biomat legit?
Some textile factories have been producing heating pads designed to look like the Biomat. Some importers mislead customers into believing their heating pads are made in the USA. In reality, their products are imported from China. 
Here at Biomat Direct we are 100% transparent that our products are produced in our Korean medical supply facility under strict quality control and environmental standards. We do it all, from research and development, design, and to manufacturing. Every step of the way our products are inspected and exceed safety standards.
Biomats vs Healthyline and imitations
Now that you know the 4 key things you should consider when choosing between Biomat vs healthyline or other imitations, rest assured that there is no better option than to purchase from a brand that has been in the market for over 20 years with thousands of health and wellness advocates that treat patients as well as people who use it in the comfort of their own home.
If you're unsure about which Biomat product is best for you or have any questions about Biomat, the technology, payment plans, insurance claims and more, feel free to get in touch. We will personally hop on a call and make this process as easy for you as possible.
Disclaimer: This information is not intended to cure, diagnose or treat medical conditions. Please consult with a qualified health practitioner before beginning any new health program.